Here at AML Group we like to share in our clients' success. So with our international asset management clients we've been eagerly awaiting the annual Fund Buyer Focus FB50 report. And we're not disappointed – Pictet AM is right up there at number four and Robeco has moved up another place to number nine, closing the distance on industry behemoths like Blackrock.
Pictet (see our case study here) has in fact consolidated its top four position with an improved brand preference score, and sits comfortably alongside names like Blackrock, JP Morgan and Fidelity. It's a huge endorsement for a radical and effective marketing strategy which AML is proud to be part of over the last couple of years.
Robeco, (see our case study here) only entered the top ten last year and has risen from number 22 in the three years we've been working together so this is a terrific performance and again, shows the power of simple brand ideas and the integration of multiple channels to cut through in a complicated sector.
As the researchers Mackay Williams say, "The ability to tell a compelling story has become a key differentiator but it's not just a matter of dispensing a good investment story. Those groups that made the most brand progress used their stories to reveal a purpose or conviction beyond the simple delivery of performance."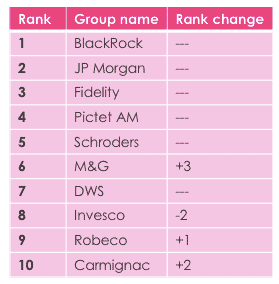 Source: Fund Brand 50 2018
---