Confronting the big issues around sustainability to challenge preconceptions.
Complicated
When AML won Robeco's global brand agency mandate in 2014, the firm was lying at 15th in FB50*. We far surpassed our 10 year target of a top 10 ranking in just five years, rising to 5th place by the end of 2019. Robeco were now punching well above their AUM weight, just below the industry giants (Blackrock, JP Morgan and Fidelity). But success brought a new challenge: how to keep Robeco up and growing amongst their new peers? More specifically, how to evolve Robeco's highly successful campaign in a way that highlights their pioneering work and pre-eminence in Sustainable and Socially Responsible investing – when seemingly everyone was joining the ESG bandwagon?
*Broadridge Data's pan-European survey of 3rd party selectors' ratings of fund providers
Simple
Given its success, we looked to evolve, not replace the existing campaign. We retained its underlying brand truth, based on Robeco's founding principles. Since 1929, Robeco have used original thinking and robust research to challenge investment convention and misconception with proven data. We simplified the campaign's 'wireframe world' graphic and gave the creative platform a more provocative attitude. Through a series of 'eye opener' facts, the new creative campaign idea is to challenge institutional and wholesale investor audiences themselves to re-think their preconceptions.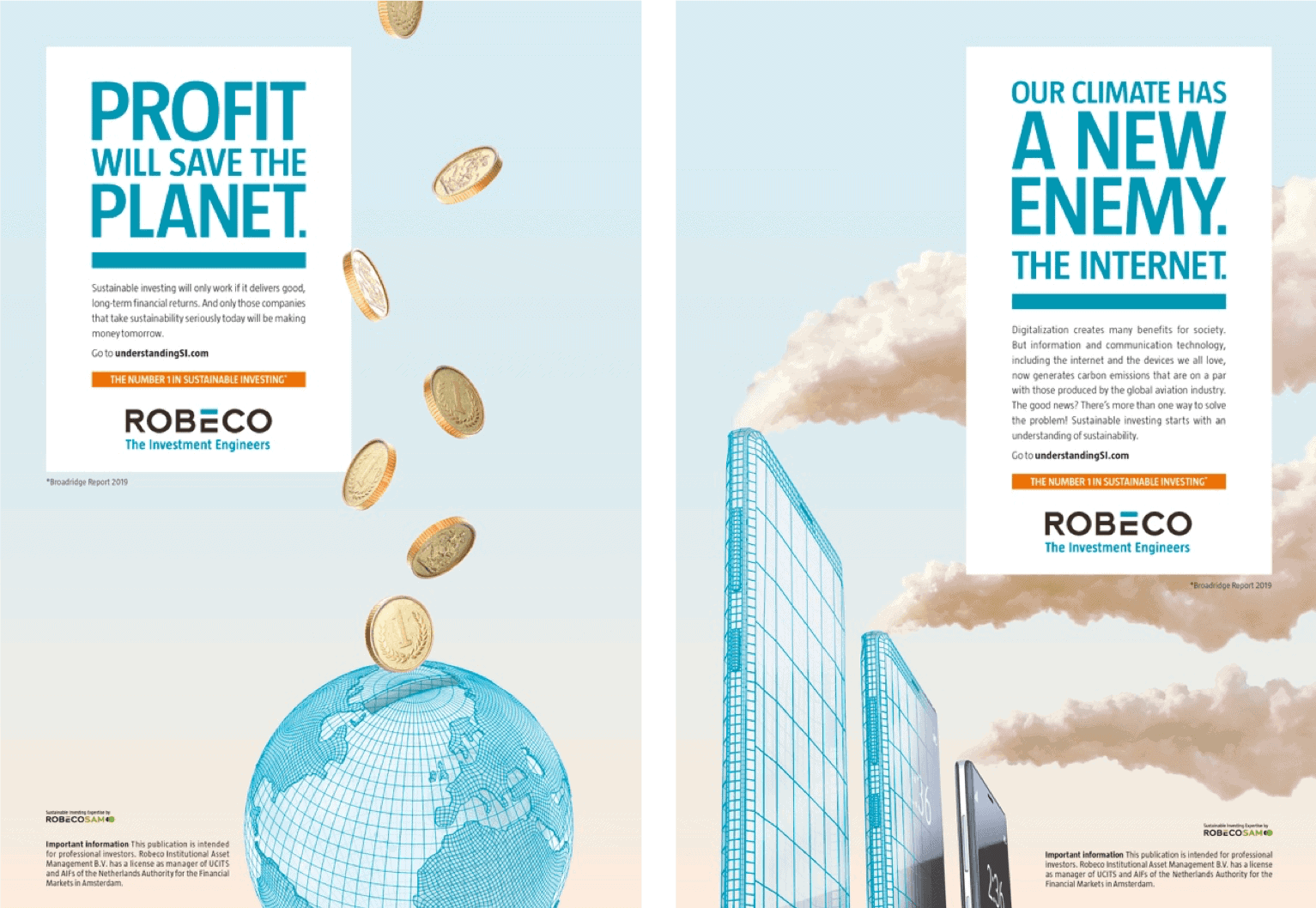 Results
The campaign is new into the market as of April 2020. The effect on metrics is yet to be seen but there has been positive press coverage as it stirs reaction. Robeco's Head of Global Branding has himself commented, "… personally I feel we have created the best campaign for Robeco in the last 15 years … certainly the best campaign I have ever had the privilege to be a part of."